Proper health and nutrition are extremely important for sustaining mankind. Addressing these issues globally has, therefore, been sought in Sustainable Development Goals (SDG) 2 and 3. India is trying hard to address these issues through enactment of laws like National Food Security Act and flagship programmes like Poshan Abhiyaan, National Health Mission, Integrated Child Development Scheme, etc. However, we find that in sections like women, children, tribal communities, etc. the situation continues to remain challenging. Barriers like absence of awareness of community and affordability, accessibility, availability and accountability of public health and nutritional services continue to challenge us. In this situation, high incidence of malnutrition, high maternal and child mortality, etc. continue to haunt us.
Prayatn has tried to contribute to resolution of these issues by demonstrating model in which demand and supply side are strengthened simultaneously. On demand side, we work at community level and generate awareness on issues related with health and nutrition and how they can address the same through resources available and accessible to them. Breaking down myths and developing indigenous support base to address the same through promotion of means like sustainable agriculture are important Women, children and adolescents of socio-economically backward communities like tribal communities, rural and urban poor, etc., are targeted in this process as they are the most vulnerable. On supply side, we engage with public health and nutrition services like Anganwadis, Health centers, schools etc. and try to strengthen them through capacity building of service providers and members of institutions like Village Water, Health, Sanitation and Nutrition Committees (VWHNC), infrastructural support, etc. Innovative ways to bridge gap between the two sides is the aspect that makes Prayatn's intervention unique in this regard.
Strengthening Demand Side (Community) on Health and Nutrition
Community based Management of Malnutrition (CBMM) in Tribal Community

While working with tribal communities like Sahariyas, malnutrition among children is more than 80%, Prayatn found that while lack of awareness was one of the key reasons for very high incidence of malnutrition amongst its children, we noted that issue non-availability of nutritious food was also equally responsible for the misery. We found that even if the hesitation in the community towards approaching public health services like Malnutrition Treatment Centers was addressed, children were falling back to same situation after returning after treatment from these institutions. We therefore, felt that to resolve the issue institution based management of malnutrition will not be sufficient. We will have to find ways to address the issue at family or community level. In this situation, community based management of malnutrition means like strengthening sustainable agriculture, promoting kitchen gardens and demonstration of proper food practices for ensuring, etc. appeared to be more sustainable solution. The organization therefore, promoted the same while keeping in mind that in case emergency situation, institutional care is important for saving life. Development and strengthening of community based institutions continued to be core strategy in this regard.
Combating malnutrition through sustainable agriculture development


To ensure food security and nutrition for children of Sahariya tribe, we decided to build capacity of the farmers on better and organic ways of farming that yielded better yield. Vegetable farming and horticulture, which was almost absent among them, was promoted resulting in increase in availability of fruits and vegetables for domestic consumption as well as sale to get higher income. Promotion of practices like kitchen garden for cultivation of vegetables for domestic consumption at almost no cost also proved extremely useful in this regard. Our team also explained nutritional value of locally available food and demonstrated better ways of cooking, storing and serving the same so that the nutritional value is retained.
Development of Community based systems and mechanisms to address malnutrition


We facilitated development and strengthening of community based systems and mechanisms so that community based institutions themselves take lead in the process of addressing the issue. Collectives of children, adolescent girls, women and adults in general were formed and their members were made aware of various aspects related with malnutrition like its symptoms, causes, preventive measures, treatment and their own role in the same. They were encouraged to develop systems and mechanism to address causes of malnutrition like poor quality of water, seasonal diseases, poor nutritional practices, etc.; track incidence of the problem, counsel those who are affected and support them in the process of treatment and prevention of further incidence of the same. Community based monitoring of institutions like Anganwadis, schools (for midday meal), public health centers, ration shops etc. to ensure qualitative of delivery of services related with food security, health and nutrition was also part of this process.
Growth monitoring of Children

Growth monitoring of children in 0 to 5 years age-group to track incidence malnutrition among them is also an important component of efforts to address this issue. Children who are found severely or moderately malnourished are monitored every month while those who are found normal are monitored on quarterly basis. Counseling of the family based on the findings of the monitoring process is an integral part of this process.
Strengthening of Supply Side (Public Health Machinery)
Besides strengthening demand side, Prayatn has also evolved and adopted several innovative ways to strengthen Public Health Machinery which includes Anganwadis, Sub-Health Centers Primary Health Centers and Community Health Centers, etc. and bridging gap between them and the community. The process included infrastructural support to develop them as models, training and handholding support to their functionaries and capacity building of community based institutions like VWHSNCs and Medical Relief Societies.
Assessment of Public Health and Nutrition facilities and services


In order to understand and reflect upon the status of Public Health and Nutrition facilities like Anganwadis, Sub-Health Centers, Primary Health Centers, Community Health Centers, Malnutrition Treatment Centers, etc. Prayatn undertook assessment of their infrastructure, human resource as well as services. The organization developed tools for this assessment in accordance with the guidelines of the government itself as laid out under National Health Mission and other government programmes. Services like Midday Meal, Public Distribution Services, Mawadi centers (run by Tribal Development Department) were also assessed in similar manner. The findings of these assessments were shared with the government officials and efforts to bridge the same were planned.
Infrastructural support to Anganwadis and Public Health facilities

To plug the gap in the infrastructure and services of Anganwadis and develop them as models, Prayatn has extended infrastructural development support to them. This included repair of their buildings, construction/repair of their toilets and drinking water facilities, providing equipments like weighing machines, providing early childhood care and education kit for children, painting their buildings as learning aid, etc. The support helped these centers in attracting more beneficiaries and improving quality of services being offered them in safe manner.
Capacity building of Frontline Workers and handholding support to them

Knowing that many of the Anganwadi workers, ASHAs and Sahayoginies have not received proper trainings, we have undertaken their trainings in which the issue of maternal and child health and nutrition and their own role in ensuring the same are duly addressed. Handholding support is also extended to them our staff in conducting their activities like celebration of Maternal & Child Health and Nutrition (MCHN) day, growth monitoring, record maintenance, Godbharai, Annaprashan, etc., so that the same are held in qualitative and effective manner.
Strengthening of VWHSNCs, ALMSCs and Medical Relief Societies


In order to enhance community participation in development, management and monitoring of functioning of public health and nutrition facilities, central and state governments have provisioned formation of Village Water, Health, Sanitation and Nutrition Committees, Anganwadi level Monitoring and Support Committees and Medical Relief Societies (also called Rogi Kalyan Samitis). Most of these institutions are not functioning properly in the absence of proper training, guidance and encouragement to the members. Prayatn ensured their formation in proper manner, trained their members and facilitated their regular meetings to activate them. The process resulted in significant improvements in the service delivery by these facilities.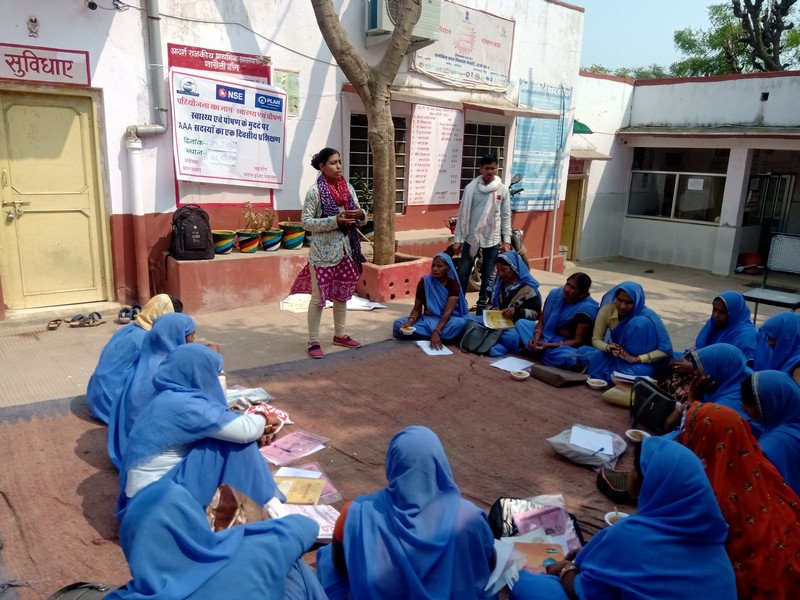 As means to facilitate learning through mutual exchange of information and support, interface between Anganwadi Workers, AHSAs and ANMs and government officials is organized by Prayatn from time to time and block/district level. Besides helping in awareness building and resolving issues raised by the frontline workers, the process helps in motivating them for collective action and enhances their confidence.
Bridge Building between Demand and Supply Side

While strengthening demand and supply side, we realized that a gap exists between the two because of which desired changes in health and nutritional status of the community are getting hampered. We, therefore, decided to test the bridge building innovations that proved successful in case of education. As such, events like Anganwadi Community Interface and Anganwadi Abhiwaadan were organized in which community as well as Anganwadi staff (Anganwadi worker, ASHA and Sahayogini) were brought together.
Anganwadi Community Interface


This is a village level event which is organized in village where irregularities are found in the functioning of the center and differences exist between the community as well as Anganwadi staff. A general gathering is near Anganwadi is organized and representatives of both the sides are called to raise their issues in front of members of Panhayati Raj Institutions and senior government officials who are invited as guests in this process. Senior staff members of the organization moderate the process so that the sharing of mutual complaints is facilitated towards development of joint action to bridge the gaps and improve the functioning and effectiveness of the institution. The process, wherever undertaken, has proved successful in resolving the issues that existed since long in a time bound manner while developing mutual confidence between the two sides as well as on the governance system.
Many of the Anganwadi staff members and ANMs make sincere efforts but the efforts of these frontline workers are not recognized because of which they feel de-motivated. To motivate them, we facilitate ceremonial felicitation of them by community members through a village level event which is attended by government officials as well as PRI members are invited. To enhance community involvement in this process, contribution in cash or kind is encouraged. Media coverage is also attempted as far as possible. The process helps in building a bond of mutual respect and trust between the two sides and motivates them to improve their functioning further.


In urban slums and rural areas of Varanasi, we have even run mobile health units in which a team of medical experts used to visit urban slums and rural areas where adequate public health facilities were not available and extended free medical counseling, check-up and treatment support to needy men, women, children as well as adolescents. In case of severe cases, referral support was also provided.
Maternal and Child Health

A lot of myths and stereotypes prevail in the rural as well as urban poor in India because which status of maternal and child health across the country continues to remain poor in our country. Poor status of indicators, like poor coverage of ante-natal check-up, post-natal check-up, institutional delivery, immunization coverage, colostrums feeding, exclusive breastfeeding and family planning; and high incidence of maternal mortality, child mortality, reproductive health issues, tobacco and alcohol addictions, anemia etc., indicates that a lot is needed to be done in this regard.

Prayatn adopts life-cycle based approach to address issues related with maternal and child health. In each of the targeted areas of our intervention, collectives of children, adolescent girls, women and adults in general are developed. The members of these collectives are imparted age-group appropriate awareness through a range of activities which include, health camps, awareness campaigns, regular meetings, individual tracking and counseling, trainings, awareness games, exposure visits, etc.
Tracking health of women, children and adolescent girls and their counseling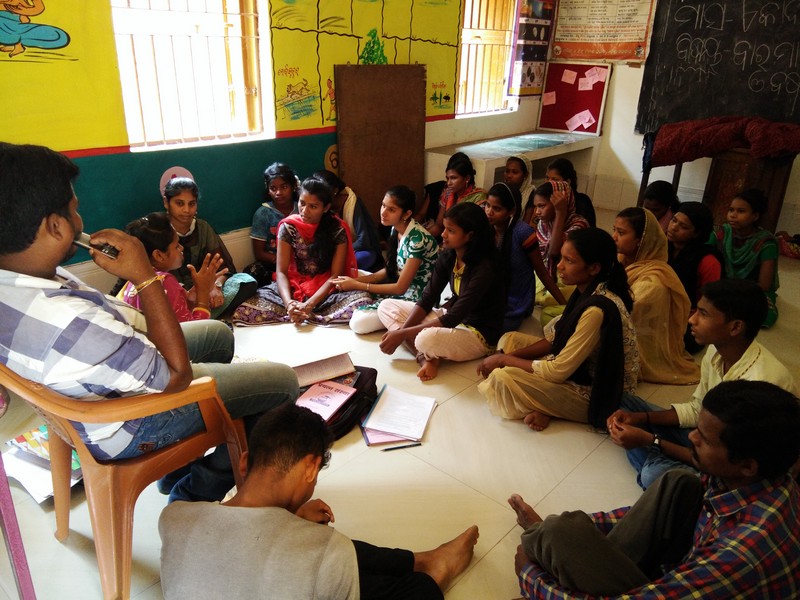 Community organizers pay regular household visits to track status of heath of pregnant women, lactating mothers, adolescent girls as well as children. They track aspects like registration at Anganwadis, immunization, ante-natal and post natal check-ups, consumption of iron and folic acid supplement consumption, institutional delivery, use of ambulance service, colostrums feeding, exclusive breastfeeding for first 6 months, introduction of supplementary nutrition thereafter, anemia testing, use of sanitary pads, etc. and counsel the family members accordingly. They also counsel them about corresponding schemes of the government and help them in applying for benefit under the same.
Group counseling and trainings


Besides individual counseling, group counseling during collective meetings of pregnant women, lactating women, newly-wed couples, mother-in-laws as well as adolescent girls is also undertaken with the involvement of local Angawadi worker and ANM wherever possible. We also undertake specialized trainings like life skill training of adolescent girls, training of women in reproductive age-group on maternal and child health, etc. Counseling of male members of the family is also undertaken so that they extend required support in maternal and child health care.
Health awareness campaigns and camps
Health awareness campaigns play a vital role in generating mass awareness in generating mass awareness on issue of health and nutrition and developing supporting environment for the same. Modern as well as folk media are used to make these processes more effective. We have also developed several information, education and communication material for the purpose.
Free health check-up camp, with the involvement of public or private health experts, is also a time-tested practice which has been found very useful in mass awareness generation as medical experts undertake mass awareness sessions during the same. It also helps in preventive as well as curative diagnosis of diseases in community.
Addressing COVID 19 Pandemic

COVID 19 pandemic has emerged as one of the biggest challenges to human survival in the recent times across the globe. Government of India responded swiftly to the pandemic and enacted nation-wide lockdown restrictions of which were relaxed gradually. The pandemic and the corresponding restrictions had multiple repercussions and Prayatn, as civil society organization came forward to minimize the same through immediate relief work, continued awareness building, support to public health and nutrition machinery and rehabilitative support.
Addressing Food Security and Malnutrition issue during lockdown and thereafter
When lockdown was imposed on March 24, 2020 people were not prepared for it. In spite of undertaking ration distribution on its own and intensive planning, government machinery found reaching out to each every family difficult. Food security and nutrition emerged as the first challenge and it was realized that if civil society organizations do not come forward to support deaths due hunger and malnutrition will be difficult to avert. Prayatn therefore decided to enter into emergency relief and coordinated with government authorities as well as its funding partners. After taking special permission, ration kits were procured and distributed across all the areas where the organization has reach. Support to migrant workers too was extended in this process. Besides ensuring that the staff members themselves do not become spreaders of the pandemic by ensuring abidance to COVID prevention norms, using PPE kits and preferring telecommunication over physical interaction; maintaining dignity of the needy families by maintaining their confidentiality as per government norms was given due importance. Restarting of services of Anganwadis and Midday Meal in the form of dry ration was also pursued with government taking support of other civil society organizations as well because it was realized that closing of these services was increasing the vulnerability of the community members, particularly women and children, to hunger and Malnutrition. As soon as the services were resumed, spreading awareness in the community about the same was also pursued.
Community awareness building on COVID 19
During the course of relief work, it was realized that the community awareness on COVID was lacking, especially in rural areas because of limited reach of mass media in them. People were not using masks, maintaining social distance and following hand sanitization in proper manner because of which risk of infection had increased. Since mass gathering was not recommended and permitted in the situation, innovative ways like movement of awareness vehicle, small group interaction etc. were undertaken.
Distribution of masks and hygiene kit
In order to develop habit of using masks and following hand hygiene, readymade masks and soaps were also distributed in rural areas. Sanitary pads, a necessity for reproductive health and hygiene, were also distributed to adolescent girls and as the supply of the same through Anganwadis had got disturbed in this process.
Supporting the COVID 19 Vaccination Programme
With the development of vaccines in India, COVID vaccination programme has begun in India. The organization has decided to extend all possible support to the initiative by generating community awareness on the same and motivating the members to get them vaccinated as per their turn. Awareness building on continuing abidance to COVID prevention norms till pandemic is brought into total control will be continued even after completion of the vaccination programme.