Children constitute about 48% of our population. Our country has ratified United Nations' Convention on Rights of Children (UNCRC) in 1992 and has also implemented several laws related with children. However, we still find that our children continue to be deprived of proper developmental opportunities. Many of them are still out of school or irregular. They are deprived of education and are vulnerable to issues like child labour, child marriage, trafficking, abuse, etc. This is because of multiple reasons which vary from poverty and lack of awareness in community to inadequacies at administration level. Prayatn has adopted model development at community, institutional as well as administrative level to address these issues in comprehensive and sustainable manner.
Children's Access to Quality Education
Education is the most important prerequisite for child development after health. In spite of several efforts of our State and Central Government, including enactment of Right to Free and Compulsory Elementary Education Act and Rashtriya Madhyamik Shiksha Abhiyaan, many are not able to go to school in regular manner. While geographical barriers like distance of schools contribute significantly in making school education inaccessible for children, the root cause lies in environment of the community, school and administration. At community level, we find lack of awareness on importance of education because of which parents do not send their children to school regularly or take part in school processes like School Management Committees actively. Issues like gender and caste based discrimination, child marriage, child labour, etc., also affect this severely. At school level, on the other hand, the issues like poor school infrastructure, inadequate capacity or sensitivity of teachers, improper functioning of School Management Committees, etc., reduce interest of children towards going to school. Prayatn has adopted several innovative mechanisms to plug these gaps and has succeeded in increasing enrolment, regularity and learning outcomes of children. It has also been able to ensure quality education in wider sense which includes moral, life skill and inclusive education. Recent challenges like COVID 19 pandemic have also been addressed in this situation.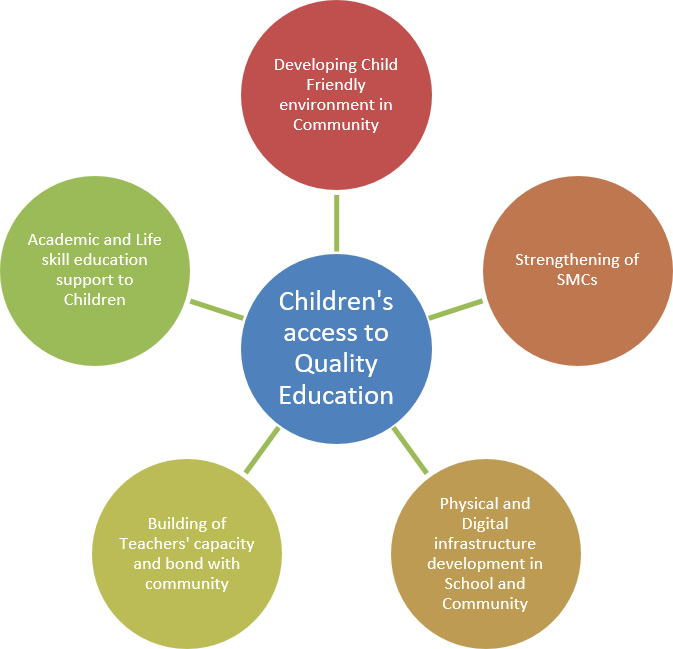 Developing Child Friendly Environment in Community
While awareness activities like enrolment drives, awareness campaigns, etc. are part of our efforts for influencing school environment, we believe that these have short term effect which will not last long unless we adopt a process of regular engagement with the community which not only builds its awareness but also enhances its capacity to address such issues on its own. We, therefore, develop community based institutions at village level like Village Development Committees, sensitize their members on importance of education and other entitlements of children, and aware them on their own role and responsibility towards addressing the same. We encourage them to develop and follow community owned systems and mechanisms to monitor and ensure regularity of children in school as well as quality of services they are getting in the same.
Strengthening School Management Committees (SMC)
Right to Free and Compulsory Elementary Education Act has provided platform for School Management Committees to ensure community participation in school processes as well as making school accountable to the community. However, in the absence of proper awareness amongst community members, these School Management Committees remain merely on paper and do not play their role at all. To make these committees active, we strengthen community so that it pursues proper for formation of them with inclusion of active members and due representation of all sections of society as well regular meetings of the same. We, subsequently, build capacity of the members so that they are able to undertake processes like School Development Plan preparation and follow them in effective manner. Innovations like joint meetings of Head Masters as well as SMC representatives at block levels in the presence of Panchayat and Block level government officials on quarterly basis have also proved effective in this regard.
Building of Teachers' Capacity and bond with Community through innovative ways
Teacher Community Interface
To bridge the gap between the community and the teachers, Prayatn has evolved an innovative process which has been named as Teacher Community Interface (Shiskshak Samuday Samwaad in Hindi). In this process, an interface programme is organized at school level in which school teachers, community members as well as representatives of children's collective take part. In the event, Prayatn staffs facilitate all these stakeholders to raise their issue against other side in constructive manner and come out with joint plan of action to address the same. In this process, mutual coordination and trust develops between them.




Teachers' Felicitation Programme
Teachers' Felicitation Programme (called Shiskshak Sammaan Samaroh in Hindi) is yet another innovative process that helps in bridging gap between community and government school teachers while motivating the later to play their role with greater commitment. This too is a ceremonial process held at school level in which community members and children are encouraged to felicitate the school staffs who are making sincere efforts for ensuring education of children. The inspiration and motivation gained by teachers through the process has resulted in significant improvement in their performance because school environment has changed a lot.




Training of Government School Teachers on Child Friendly Teaching Learning Practices
Government school teachers are academically very sound as they are well educated and have faced multiple test processes before being selected as teachers. However, they do not know about child friendly ways of educating children like Activity based Learning (ABL), Mult-grade Multi-level teaching learning (MGML) process, etc. because of which children do not take due interest in their teaching and are not able to enhance their learning level. At Prayatn, we understand this gap and try to bridge it through training of these teachers on the same by pedagogical experts. Permission and support of education department is obtained for this purpose.



Onsite Support to Government Teachers
Training alone cannot bring any change in teachers' regular attitude, behavior and practice. We have, therefore, worked an innovative mechanism called on-site support under which a Tutor trained as BalMitraShikshak by our experts pays regular visit to government schools and demonstrates child friendly teaching learning process in regular class of teacher and helps him/her in practicing the same. Enhanced interest of children and effectiveness of the process in improving their academic as well as other skills motivates teachers to practice the same. Each Bal Mitra Shikshak takes care of five schools in this process.
Physical and Digital Infrastructural development in School and Community
Development of Physical Infrastructure of Schools
School infrastructure plays very important role in ensuring enrolment and continuity of children as well as enhancing their learning outcomes. From classrooms, libraries and laboratories to facilities like toilets, kitchens, playground, etc., it is necessary that the school infrastructure is developed in child friendly and safe manner. So, Prayatn has undertaken reconstruction and repair of their buildings, as well as, refurbishment of the same with furniture, teaching learning material, laboratory material, play material, computers, other equipments etc. While the entire process has been undertaken in 11 schools damaged by cyclone Fani in Odisha, we have undertaken toilet repair and reconstruction to improve WASH facilities (toilets, handwashing units and drinking water facilities) in 135 government schools across Rajasthan, Odisha and Jharkhand. Refurbishment, on the other hand, has been undertaken in many more schools. The concept of developing Building as Learning Aid (BALA) through education artwork on school buildings is also kept in mind in this process. The entire process has been undertaken with the support of corporate as well as national and international development agencies.
Encouraging Digital Education in Schools and Community
Education through digital means has become needs of the hour but government schools are unable to ensure the same across all schools because this requires heavy investment. Prayatn, with the support of its donor agencies has tried to bridge this gap by developing smart classrooms and computer laboratories in schools and have provided instructors as well wherever needed so that facilities do not become a showpiece in the absence of use. We have also established Digital Learning Centers at community level to reach out to those adolescents and youth who are unable to learn the same because of being out of school or because school does not have adequate space and electricity supply.
Academic and Life Skill Education support to Children
Remedial Support to academically lagging Children
Surveys like those of ASER have revealed that a large chunk of children in government schools do not have class appropriate competencies. Poor quality of education in school as well irregularity of children because of family reasons (like need to go to work) turn out to be the key reasons for this situation. This results in dropping out of children from schools because parents feel that their child is academically 'dumb' and sending him/her to school will be wastage of time. They feel that involving such children in income generating activities or domestic work will be better. To ensure continuity of such children and raise their academic competencies to class and age-appropriate level, Prayatn has undertaken extension of remedial education support to them with the involvement of Shiksha Mitras who are trained by experts on child friendly teaching learning processes. Shiksha Mitras identify such children with the support of local schools and through assessment and organize remedial classes within or outside schools keeping situation in mind. The quality of the entire process is ensured through regular monitoring and support by Pedagogical Experts as well as regular assessments of progress of children.
Bridge Courses for out of school children
Children who are in school going age-group but have remained out of school for two or more years cannot be mainstreamed into formal education process through direct enrolment in age-appropriate class because their low academic competencies make coping with the class difficult. On the other hand, if they are enrolled in their level appropriate class, they hesitate and drop out because they do not feel comfortable in sitting with children who are two or more years younger than them. Bridge courses have proved to be a solution in this situation because through these courses, which are residential and are for about 6 months, children are able to acquire age and class-appropriate academic competencies. After attending bridge courses, these children are able to cope well when they are enrolled in their age-appropriate class. The process, besides raising their academic competencies in accelerated manner, brings change in their overall personality which includes improvement in their sincerity, regularity, discipline, development of good habits, etc. because of which they receive appreciation from their family members, school teachers as well as others. The motivation to continue their education in regular schools, therefore, increases and their continuity is ensured.

Non-formal Education Centers
In situations like urban slums of Varanasi, where direct enrolment in formal schools as well as running of residential bridge courses was not possible, we initiated running of non-formal education centers within the slum itself for linking the out of school children with education. Tutors were hired and trained on child friendly teaching learning practices for the purpose. Upon developing basic literacy and numeracy skills among the children, efforts were made to mainstream them in formal schools.

Life Skill Education of Children
The span of quality education is not limited to academic education alone. It includes social and life skill education also. To ensure such education in government schools, Prayatn adopted mechanisms like developing children's clubs in government schools and undertaking regular sessions and other activities with them with due involvement of government teachers. Modules which included aspects of social education, moral education, financial education, entrepreneurship skill development, etc. were developed and used for the purpose. Awareness on challenges related with child rights like child labour, child marriage, child abuse, gender, class and caste based discrimination etc. was also part of this life skill education.
Ensuring children's access to education during COVID 19
Government of India has enacted several laws and schemes related with child protection like Juvenile Justice Act, Protection of Children from Sexual Offices Act, Child Labour Prohibition and Regulation Act, Child marriage Restraint Act, Integrated Child Protection Scheme, etc. Still, a large section of child population in India is need of care and protection. Children suffer abuse, neglect, exploitation and violence in different forms like child labour, child marriage, child trafficking, child abuse, gender based discrimination, caste and class based discrimination, etc. Prime reason of this situation lies in the fact that child protection is not a priority of community and administration too is not able to reach out to such children because of various reasons.

At Prayatn, we have model development approach to address the issue under which models of child friendly villages, schools, police stations, children homes, etc. have been developed and efforts are being made to develop model Panchayats, Blocks, District and even State through sensitization and capacity building of the entire child protection machinery of the government as defined under Juvenile Justice Act and other related laws.
Developing Child Friendly Environment in Community
Developing Model Child Friendly Villages
A child friendly village is a village where all rights of children are fulfilled. These include right to survival, development, protection and participation as defined under UNCRC. While right to survival includes addressing health related issues starting from immunization to protection from malnutrition and other disease; right to development includes ensuring children's access to quality education; and right to participation on the other hand includes developing platforms for children. All this has been done by putting child protection issues like Child Labour at center where incidence of the issue is high. So, while community based institutions have been developed and strengthened to the extent that they develop and follow indigenous systems and mechanisms that ensure child friendly environment in the community, sustainable livelihood development support through means like Self Help Groups have also been developed so that families dependent on child labour are able to develop alternative source of livelihood. Ensuring children's access to quality education through multiple mechanisms like bridge courses, onsite support to schools, etc., was also important part of the process. We have developed 60 such model villages in Dhaulpur district of Rajasthan while 50 more in Varanasi district of Uttar Pradesh are in process of development.
Intervention for children living urban slums and streets
Besides engaging with vulnerable children living in rural areas, we have also worked with destitute children living in pathetic condition in urban slums in Varanasi. These children include those involved like begging, rag picking, rikshaw-pulling, etc. Our efforts have helped them in coming out of child labour and restarting education in formal schools through awareness building, sensitization, institutional development, livelihood support to their families, most of whom were migrant labourers, and non-formal education support.
Strengthening Child Protection Machinery at different levels
Dhaulpur district of Rajasthan is probably the only district in the State or the Country where entire Child Protection Machinery from Village and Panchayat level to District level is in place and with all its members trained. This has happened because of the efforts of Prayatn. We have ensured formation of 174 Panchayat level Child Protection Committees and 5 Block level Child Protection Committees and have trained more than 2392 members of the same. About 313 police personnel, members of District Child Protection Unit, Juvenile Justice Board, Child Welfare Committee, etc. have also been sensitized through multiple ways and their meetings have been regularized. Joint monitoring visits with these bodies have resulted in rescue of at least 150 child labourers and cases have been registered by the administration against two of the employers resulting in their remand for the first time in the history of the district. Such efforts have resulted in development of fear of law for the first time in the entire district. The erstwhile backward district, which is infamous for several unlawful activities, isbeing recognized as model on child protection in the State and administration is supporting our entire division as model now.
Developing Model Child Friendly Institutions
Besides developing child friendly environment in schools as described in education section, we have also development models of child friendly police station and children homes. The Child Friendly Police Station has been developed in Sadar Thana Dhaulpur in collaboration with Rajasthan Police and was considered first of its kind in the entire region. Model Children Homes, on the other hand, were developed and run in Varanasi and Chandauli districts of Uttar Pradesh. These were registered under the Juvenile Justice Act and were run in accordance with the guidelines under the same. The Children Home in Varanasi was run for destitute children, whose parents were not in position to take care of them because poverty caused because of livelihood and saving loss taking place because of leprosy infection and other reasons, with separate facilities for girls and boys. The home in Pandit Deen Dayal Upadhyay Nagar (Mughal Sarai) of Chandauli district was a shelter home for girls who are found in need of care and protection at the railway station of the same city which is one of the busiest in the entire country and is a source, transit point as well as destination for trafficking.
Emergency support for Children in need of Care and Protection
Prayatn has joined hands with Childline India Foundation as collab organization for running round the clock emergency helpline service for children in need of care and protection in two settings under Integrated Child Protection Scheme of the Ministry of Women and Child Development, Government of India. First setting is in the form Child Help Desk which is being run at Pandit Deen Dayal Upadhyay Nagar Railway Station and has been initiated at Dhaulpur Railway Station in Rajasthan as well, recently, in collaboration with Ministry of Railways. The other one is in the form of District Childline in Dhaulpur district which is responsible for reaching out any child anywhere in the district for emergency help and is being run in ordination with District administration. All these are connected with the nation-wide toll free Childline number 1098 and are addressing around 800 cases every year. They were functional even during the lockdown because of COVID pandemic.
It is generally believed that children cannot take part in crucial decision making processes because of their tender age. However, our experience has made us believe that age-group appropriate participation of children, as described under UNCRC as well, is important as well as extremely useful in community development while contributing to their own development. Children are able to identify and raise issues felt by them for seeking their resolution if they are provided suitable platform. Keeping this in mind, Prayatn has developed Children's Collectives called Bal Manches at village level. These collectives provide platform for enjoyment, learning, developing good habits, sharing their issues in front of others and getting them resolved. Opportunities available in formal education system like children's group at school level are also strengthened for the same process. Their federations are also developed as subsequent step of taking the process further.
Development and Strengthening of Bal Manches
Bal Manches are collectives at village level whose membership is open for all children, including girls as well as boys, of the village in 8 to 15 years age-group. These collectives are facilitated to meet at least once a month to enjoy as well as discuss issues related with them thereby developing their understanding on child rights as per UNCRC and Indian laws as well as skills like communication, planning, analyzing and leadership skills. Various processes like trainings, exposure visits, federation development, etc. help in building capacities of the members further.
Child Led Indicator Development
In order to enable children to identify and analyze their issues on their own and plan age-appropriate action to address them, an innovative process, called Child Led Indicator (CLI) Development has been developed. This is about two days long process in which experts from the organization facilitate Bal Manch members or their representative children to develop understanding on their entitlements and identify and analyze issues felt by them in the same light in age appropriate manner. These issues are then taken by the collectives of adults in processes like Village Development Plan preparation for planning action on their end. The progress on the issue is reviewed during subsequent meetings of Bal Manch as well as repetition of the process next year.
Dasham and E-Dasham Initiatives
Children's voices are not usually heard in electoral processes because they are not eligible to caste vote in elections. To make their voices heard and issues resolved on priority, various innovations have been undertaken by the civil society. One such initiative in which Prayatn too played leading role was 'Dasham' under which all the civil society organizations of Rajasthan state came together to enable children to develop their own charter of demands and put them in front of all political parties during elections of State Legislative Assembly held in 2018 as well as Parliament in 2019. In this process, workshops for representatives of different children's groups were held at divisional and then at state level to come out with a common charter of demands which were then shared with the representatives of political parties. The process resulted in inclusion of many of the demands in manifestoes of the political parties and subsequent action on the same after the elections. The process has been taken further during COVID pandemic when physical gathering was not possible through a social media platform called E-Dasham.